---
Dr. Chen Bin, President of the Group, Invited to Attend the 2023 " One Belt and One Road" Chinese Business Summit
---
On June 16, the opening ceremony of the "One Belt and One Road" Chinese Business Summit 2023 was held in Chengdu. With the theme of "Chinese Businessmen Focus on and Share New Opportunities of Silk Road", the summit was organized by Sichuan Provincial People's Government and China Overseas Chinese Chamber of Commerce. Zhao Junmin, Member of the Standing Committee of Sichuan Provincial Committee and Minister of United Front Work Department, and Wang Yongle, Advisor and former Vice Chairman of China Overseas Chinese Federation, attended the opening ceremony and delivered speeches. Yang Xingping, Vice Governor of Sichuan Province, and more than 200 representatives of overseas Chinese businessmen from more than 50 countries and regions along the "One Belt and One Road", representatives of the China Overseas Chinese Chamber of Commerce and representatives of enterprises in Sichuan attended the event. Dr. Chen Bin, President of Continental Hope Group, as the Executive Vice President of the China Overseas Chinese Entrepreneurs Association, was invited to attend the event.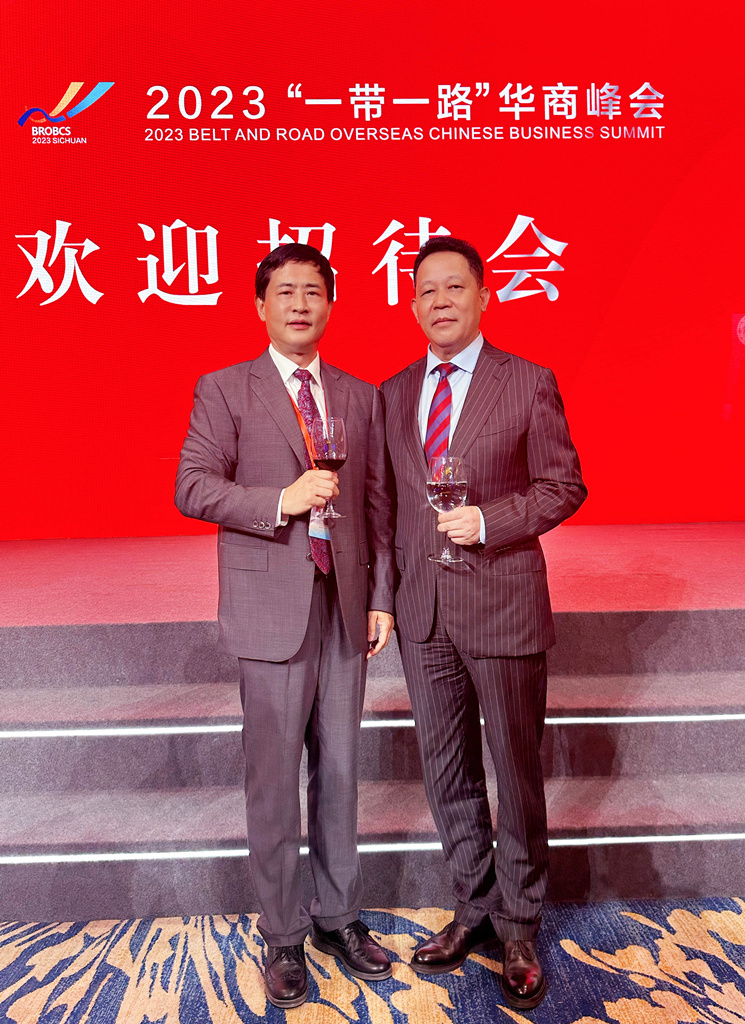 Yang Xingping, Vice Governor of Sichuan Province, with President Chen Bin at the Reception Party of the 2023 "One Belt and One Road" Chinese Business Summit
The summit contributed to 11 investment and cooperation projects involving overseas Chinese, with a total investment of 15.33 billion RMB. A project signing ceremony was held at the opening ceremony. 7 projects were signed on the spot, with a total investment of 10.89 billion RMB, in areas such as electronic information, optical manufacturing, industrial robotics, modern agriculture and trade logistics.
The Group's "Hope Deepblue" ultra-low temperature lithium bromide absorption refrigeration unit released on the same day attracted the attention of Chinese businessmen.
In an interview during the event, President Chen Bin made four suggestions on the topic of "Chinese private enterprises to build global brand influence and achieve global investment": First, strengthen internationalization strategy. Private enterprises should formulate a clear internationalization strategy, define the target market and target industry, and cooperate with relevant government agencies, business associations and professional consulting institutions; secondly, establish brand values. Establishing a positive brand image and values is the key to building global brand influence; third, invest in R&D and innovation. In global investment, private companies should invest more in R&D and innovation; fourth is to establish international partnerships. Establishing good relationships with local partners is the key to successful global investment.
President Chen Bin expressed his hope that through participating in this summit, the Group's well-known brands such as "Hope Slanvert" and "Hope Deepblue" will be promoted to more countries and regions by taking advantage of the "One Belt and One Road", providing more technical support and choices for countries along the "One Belt and One Road" with our advanced technology and years of experience in industry applications, and continuously contributing to the "Made in China" in the fields of energy saving, emission reduction, transmission control and new energy.
Related material:
Hope Slanvert Technology Corp., Ltd. is a national key high-tech enterprise dedicated to the research and development of energy-saving and environmental protection, transmission and control, new energy, intelligent equipment system and related product design, development, production, sales and service, and is one of the first high-tech enterprises in the electrical automation industry to obtain "China Famous Brand" and "China Well-known Trademark". It is also the main formulating and revising organization of international standard of China's inverter technology. Hope Slanvert's inverter control system, EPS power supply, shore power supply multi/monocrystalline silicon power supply and other industrial power supplies provide system solutions for electric power, building materials, metallurgy and steel, petroleum and petrochemical, equipment manufacturing, municipal, light industry and other industries, and have achieved good social and economic values. Our high-end customized products are successfully applied in Xichang Satellite Base, Beijing National Stadium, Beijing Winter Olympic Ski Resort, Johnson Controls, Daikin, Indonesia Golden Light, Capital Airport, Aluminum of China, PetroChina, Sinopec, etc. In July 2021, Slanvert Technology was listed in the "Specialized and Special New Small Giant" of the Ministry of Industry and Information Technology. "
With more than twenty years' concentration and persistence, Hope Slanvert has been exploring the road of international development while achieving remarkable results at home. At present, Slanvert products have been sold to more than 30 countries and regions such at China, India, South Africa, Brazil, Italy, Denmark, Singapore, Indonesia, Malaysia, Vietnam and Turkey.
  Hope Deepblue Air Conditioning Manufacturing Corp., Ltd. is a national key high-tech enterprise, one of the earliest enterprises engaged in the research and development and application of lithium bromide absorption technology in China, and a member of the leading group of "carbon peaking and carbon neutruality" work in the refrigeration and air conditioning industry. The company has strong technical advantages and has obtained nearly one hundred patents and proprietary technologies. The company has developed and produced various types of lithium bromide absorption chiller and hot water units, lithium bromide heat pumps, various types of vacuum central hot water units and atmospheric pressure hot water boilers, cooling, heating and electricity distributed energy systems, air purification and disinfection products. It is recognized as the "waste heat utilization expert" in coking, chemical, textile, pharmaceutical, food, metallurgy, power plant and other industrial fields, and has been awarded as the "World Environmental Protection and New Energy Industry China Waste Heat Recovery Leader".
  In lithium bromide absorption refrigeration and heating, Chinese technology is the world technology, Hope Deepblue's overseas applications started in Asia and flourished in Europe, with hundreds of units in stable operation in Italy alone, and numerous world famous clients as mentioned before. So many international customers choose Hope Deepblue and trust Hope Deepblue. This brand influence comes from the advanced technology and excellent quality, from the perfect response to customer needs, from the demonstration effect of many model projects, and from the industry's unique "no time difference, zero distance" service model. Hope Deepblue has become a world-renowned Chinese business card.
Related media coverage:
2023 "One Belt and One Road" Chinese Business Summit Media Spotlight
---
Prev: Yue-Sai Kan as Guest at Atlantis - Golden Dynasty:The Beauty of Chengdu is an International Fashion Card
Next: Cooperation for Empowerment and Win-Win - Strategic Cooperation Agreement Signed between Continental Hope Investment and Bossco Environmental Technology